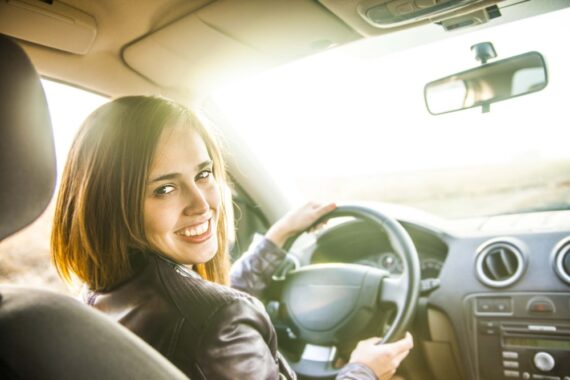 What Is a Hardship License? 
A hardship license is either a special kind of driver's license some people can receive after their license is suspended or it's a special license some states issue to children ages 14-15 who typically live in a rural area and need to drive to attend school. We'll be focusing on the first case scenario.
While there are multiple steps you must take to get a hardship license after your driver's license is suspended, the primary qualification is that losing your license (and therefore your ability to legally drive) will cause significant hardship in your life.
Hardship licenses are typically very limited. For example, a college student's hardship may be that the loss of their license keeps them from going to both school and work. If they get a hardship license, it may only allow them to drive to school and work.
The Hardship License and SR-22 Insurance
You may sometimes hear people talk about the hardship license in conjunction with the SR-22. How are the two related?
An SR-22 is a special certificate you may be required to file with the state through your insurance company (note that in Florida, it's referred to as an FR-44). This form verifies that you have at least the minimum insurance required by the state.
While different circumstances may result in you having to file an SR-22, the most common circumstances are DUI and DWI violations. If you are convicted of such a violation and later apply for a hardship license, you may need to have an SR-22 on file before getting your license back.
What Does a Hardship License Cost?
Fortunately, it usually has a relatively low cost (in Florida, for example, the cost of filing an application is only $12) — though there are related costs that are usually much higher. For example, Florida charges $45 to reinstate your license. That mandatory driving course we mentioned earlier costs roughly $60. On top of that, there may be additional administrative costs related to the reason your license was suspended in the first place. If there was a drug or alcohol offense, that fee is $130.
So while simply applying for the hardship license is relatively cheap, all of the related costs can quickly add up.
Do I Need a Hardship License?
Yes, if your license is suspended and you still need to drive, especially when not being able to drive may result in severe consequences, such as loss of job. Certain traffic violations, or a combination of traffic violations, can lead to a license suspension. That may keep someone from going to work, dropping off or picking up his or her children, getting groceries and so on. Eventually, this can lead to further consequences like the loss of employment, loss of child custody, and more.
It's possible to prevent this from happening by getting a hardship license, but what is a hardship license, and how do you get it? Keep reading to discover the answers!
Can Everyone with a Suspended License Obtain a Hardship License?
In short, no. Each state can determine specific conditions in which a driver cannot get a hardship license. This may include everything from a suspension for being incapable of driving motor vehicles to a suspension for not paying child support.
Other restrictions may apply. For example, someone may have a license suspended due to a DUI or DWI. When this happens, then you may have to wait a certain period (typically between 180 to 365 days) before you can apply for a hardship license, and you may have difficulty obtaining car insurance.
Can a Hardship License Be Taken Away?
Yes, your hardship license may be revoked. It's important to follow any restrictions that are part of that license. For example, if your hardship license specifies that you can only drive to work and school, then driving anywhere else could result in the hardship license being taken away. In some cases, these licenses may restrict you to only driving during the day, so driving in the evening would be enough to get it taken away.
Be sure to pay close attention to the restrictions specified by your hardship license so that you do not accidentally violate them.
Find Cheap SR-22 Auto Insurance Quotes
How Do I Get a Hardship License?
The exact procedure will vary from state to state. In Florida, you must first register for and complete a 12-hour ADI course before you can fill out an application for hardship. You can then bring both the application and your certification for completing the course over to the appropriate office, in most states a branch of the motor vehicles department. After you pay the fees (more on this later), you can get the hardship license as long as you are eligible.
Be sure to contact your local DMV to verify the hardship license procedure in your state.
What Are the "Special Circumstances" for a Hardship License?
The exact circumstances may vary from state to state. To get a hardship license, you must usually demonstrate that you need your license for one or more of the following reasons:
To attend school yourself
To get your children to school
To keep your job
To get emergency medical care
To get treatment for drug or alcohol addiction
Other conditions may apply in your area. Be sure to check with your local DMV to verify what they are.
Find SR-22 Insurance Quotes Today
The worst thing about having an SR-22 on file is that it increases your insurance costs, and that hurts even more after paying the fees for a hardship license. What if you could save some much-needed money on your monthly insurance premium?
At SR-22 Adviser, we're here to help you save money on your monthly premium. To get started, come get competitive quotes online with our insurance partner today!