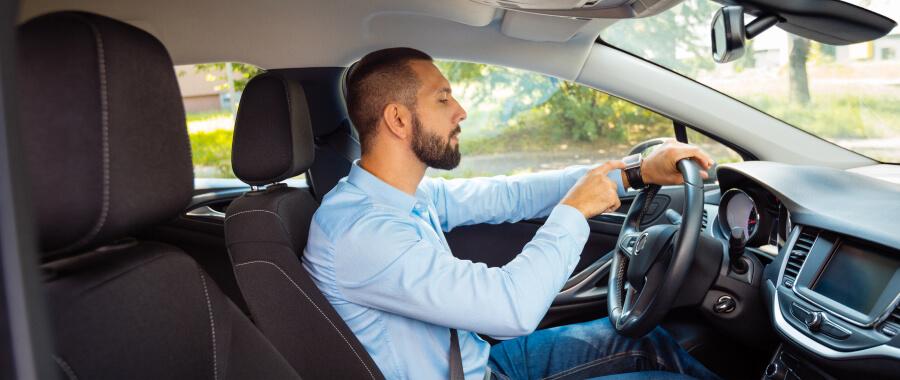 Who Offers Affordable SR-22 Insurance?
After being convicted for a DUI or other serious traffic offense, your finances can become strained — that's why it's important to know how to hunt for cheap SR-22 insurance. Finding affordable insurance with an SR-22 will help you put savings toward daily expenses. If you're wondering who has the cheapest SR-22 insurance, this article will walk you through how to search for affordable insurance and more information on what an SR-22 is.
How Expensive Is SR-22 Insurance Compared With Regular Insurance?
You can expect to pay around twice as much for SR-22 insurance as regular insurance. Note that this higher fee is only providing minimal coverage. The reason for this is that an SR-22 is mandated for the highest-risk drivers — and in the world of insurance, where there's high risk, there are higher prices.
You'll find that SR-22 insurance can be significantly higher than regular insurance in some states, while in others, it may only be several hundred dollars more. This will change depending on where you live and what type of offenses are on your record.
The Factors Affecting Your SR-22 Insurance Rate
SR-22 insurance will vary by your perceived riskiness as a policyholder — and nothing affects that riskiness quite like the presence of a serious traffic offense on your record. Luckily, an SR-22 can help you get back on your feet by giving you the state's required minimum coverage. This means you can start driving again and, provided you can avoid more violations, work toward having full driving privileges once again.
Here are some of the offenses that might affect your SR-22 insurance rate:
1. Driving Under The Influence (DUI)/Driving While Intoxicated (DWI)
A DUI or DWI charge can be a particularly traumatic event to go through — it can affect your personal relationships, strain your finances, and even put your job in jeopardy. Part of the reason is that it means you will not be allowed to go to work for some time due to both jail time and a mandatory driver's license suspension period that can last up to a year in certain states.
The good news is that an SR-22 is there to help you regain some bit of normalcy. With SR-22 insurance, you will be able to get back on the road and improve your driving record. You may also be able to apply for restricted driving privileges to take care of essential tasks during your license suspension period.
2. Reckless Driving
Another category of serious offenses is reckless driving and negligent driving. This could include disregarding stop signs or traffic lights, excessive speeding, or aggressive lane changing and weaving through traffic.
If you get this charge, the court will likely order an SR-22 when you want to return to the road. By holding steady car insurance and avoiding further moving violations, you demonstrate better driving behavior to the state.
3. Driving Without Insurance
It is required by federal law that all drivers be insured on the road. The reason for this is that not having insurance represents an enormous gamble — driving a car could at any moment result in extremely expensive damages, which makes driving without insurance a serious offense.
This offense is much more severe if you get into an accident without insurance. This can result in tens of thousands of dollars of damage and medical bills that go unpaid because the guilty party cannot afford them. This leads to a tremendous disruption to both parties' lives and financial well-being, which is why courts often impose strict fines and jail time.
If you get caught without insurance, you may lose your license. This typically only happens for repeat offenses of driving without insurance, and you'll need an SR-22 to get back on the road.
4. A Hardship License
A hardship license is granted when the defendant needs to get to certain places. This could include driving to school, commuting to work, dropping children off at school, or going to get groceries. It mandates that you only travel to and from a particular set of locations such as your home, job, school, etc.
Though this type of license lets you get back on the road sooner, you'll still need to go through a period of absolutely no driving known as a "hard suspension." Such periods often last around one month. During this time, you will have to arrange for rides or use public transportation. At the end of this period, you can apply for this license.
The state will require you to have an SR-22 form on file to drive with a hardship license, which shows them you are properly insured.
5. License Revocation or Suspension
Following a suspended or revoked license, you'll likely want to get back on the road as quickly as the process allows. Doing so will require your insurance company to file an SR-22 form with the state. You should receive instructions from the DMV outlining steps you can take to move toward regaining your license. Among these steps are likely to be a defensive driving course and the successful completion of a test. After this, you can shop for SR-22 insurance.
You may also need to attend alcohol classes if your suspension or revocation was due to alcohol-related charges. The state could also impose other requirements and order you to pay a number of fines and paperwork fees, which tend to be higher for alcohol-related charges.
You should be up front about your charges and the steps you're taking to get back into good standing. Your insurer needs all the information around your case to give you the best rates.
Find Cheap SR-22 Auto Insurance Quotes
How to Lower SR-22 Insurance Rates
Though it's never a guarantee, there are steps you can take that put you in a better position to get lower rates on your SR-22 insurance. These will vary depending on which of the above charges applies to you, but they include the following:
1. Taking a Defensive Driving Class
The state may require you to take a defensive driving class, but even if it is not required, such courses can reflect well on your progress. Taking a defensive driving class is also a great step to point toward when shopping for SR-22 or DUI insurance.
For example, if you were charged with driving without insurance, it might seem that a defensive driving class doesn't apply to that specific charge. However, it demonstrates to the state that you are taking on-road safety seriously and trying to better yourself as a driver. This means you're more likely to make responsible decisions in the future.
If you have a suspended license, taking a defensive driving course can help reduce your insurance premiums cost once you get back on the road.
2. Shopping Around for the Lowest SR-22 Insurance Cost
Online is the best place to start when hunting for the cheapest SR-22 insurance. Different providers will have different algorithms for calculating policy costs. That means shopping around with different providers will help you land the best deal.
You will need to have your SR-22 filled out and filed with the state before your license is reinstated — this process is handled entirely by the insurance company. They will fill out your SR-22 and file it with the state, which establishes communication between the two. That way, the state will be alerted if you lapse on your insurance while also assuring them that you have the minimum coverage required by law.
3. Paying the Fees All at Once or Setting Up a Payment Plan
Fees imposed by the court and the DMV are likely to be expensive, but putting them off will get you nowhere. To move on, you have to set up a plan to pay them. It's best to pay them up front if possible or as part of a payment plan if you're unable to do so.
How Long Will My SR-22 Last?
Your state will have its own rules on how long you must keep your SR-22 on file. For example, California requires you to hold your SR-22 for at least three years. In Texas, the lower limit is two years of SR-22 insurance. As the seriousness of the traffic offense goes up, you'll likely see longer mandatory SR-22 periods.
Can I Save With Non-Owners SR-22 Insurance?
Yes, you can save money by choosing non-owners SR-22 insurance, though it will limit your driving options. You are not allowed to own your own car, live in a household with someone who owns a car or have a mandate for an ignition interlock device to be eligible for this insurance.
The ideal scenario for non-owners SR-22 insurance is to have a friend or family member who's willing to lend you their car on occasion. Because you'll be on the road less as a result, your insurer can offer lower premiums.
How to Find the Most Affordable SR-22 Insurance
SR-22 Adviser is here to help you find cheap, reliable SR-22 insurance near you. This means you can get back on the road and closer to putting this difficult period behind you. Visit our website or call us to get a quote and let our insurance partner help you with the important process of shopping for the best deal available.