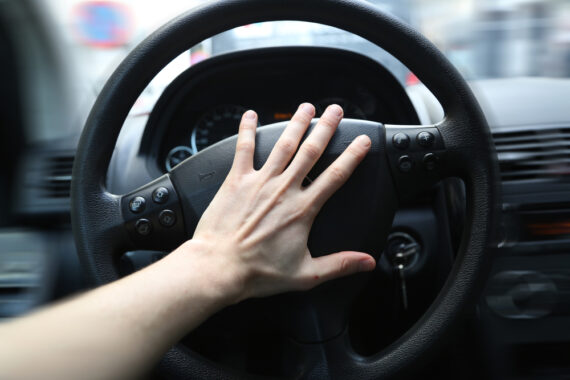 Everything You Need to Know About Completing a Defensive Driving Course 
A lot of people know the most common ways to save money on SR-22 insurance, like keeping a clean driving record or bundling policies. But when you're looking to really save as much as possible, there's another option available to you: taking a defensive driving course. 
This article covers all the basics you should know about defensive driving classes, including who should take one and what to expect during your first course. 
What is a Defensive Driving Course?
A defensive driving course, also called a defensive driving class or driving safety class, is a special type of class that teaches and refreshes drivers on safe techniques for handling hazardous or unexpected situations on the road. Many driving safety classes also cover basic traffic laws that apply in your state or local area, such as DUI laws. 
What's the Difference Between Drivers Ed vs Defensive Driving Course?
Both driving safety classes and driver's ed provide classroom instruction, but they're aimed at different kinds of drivers. While driver's ed is designed for new drivers who may have never driven a car before, a defensive driving class teaches more advanced driving skills to people who already have a license. 
Who Needs to Take a Defensive Driving Class?
Most people aren't required to take a safety driving class, but if you are, you'll be notified by a court or your state DMV (similar to when you need SR-22 insurance). The most common reasons for needing to take a defensive driving class are: 
Getting a traffic ticket:

If you get a traffic ticket for a minor offense, many states are willing to dismiss the ticket if your driving record is clean and you take a defensive driving class.

 

Reducing license points:

If you're in danger of having your license suspended due to too many accumulated points, you can sometimes avoid the suspension by taking a driving safety class, which will reduce the points on your license.

 

Court order:

If you're involved in a major traffic violation and need an SR-22, the court may order you to take a defensive driving class as one condition of

getting your license back

.

 
Before enrolling in a defensive driving class to reduce points or dismiss a ticket, check the ticket instructions carefully for instructions on what to do. For instance, some states allow you to manage your traffic ticket online and submit your course completion certificate without ever having to see a judge. Other states will still require you to appear in court before allowing you to take a driving safety class to dismiss your ticket. When in doubt, contact your state Department of Motor Vehicles.  
What Are the Benefits of Voluntarily Taking a Driving Safety Class?
Believe it or not, many people who take a defensive driving class aren't trying to get out of a ticket. Instead, they're taking advantage of two major benefits of defensive driving courses. 
First, taking a driving safety course every few years will keep your mind refreshed on best practices for avoiding accidents on the road. When you combine this with other safe driving practices, you're greatly reducing your risk of injuring yourself and others in an accident — not to mention avoiding costly car repairs and insurance claims. 
The second benefit is that many car insurance companies offer significant discounts for people who have taken a safety course in the last few years. In fact, it's very likely that the savings on your insurance premium will more than offset the cost of taking the course. Just keep in mind that insurance companies don't usually offer discounts if you're taking the course to dismiss a ticket. 
How Much Does a Safety Driving Class Cost?
The cost of a defensive driving class varies from state to state and can range anywhere from $15 to $100. The price includes the course instruction, quizzes, and the completion certificate. 
Find Cheap SR-22 Auto Insurance Quotes
Can You Take a Defensive Driving Class Online?
Most driving safety classes today are offered online. In fact, in-person courses are becoming rarer (though they do exist). 
The biggest advantages of online classes are: 
Ability to take the course on your schedule

 

Easy to rewind/rewatch segments as needed

 

A downloadable completion certificate that you can save and print whenever you need it

 
On the other hand, some people still prefer in-person classes, whose advantages include: 
A more structured schedule with clear start/end times

 

A dedicated and distraction-free learning environment

 

Opportunity to ask the instructor questions or to clarify points

 
Keep in mind that states have restrictions on who can take an online class. Drivers with multiple violations or who have committed a particularly serious violation (such as a DUI) may not have the option to take an online course. 
What to Expect During Your First Defensive Driving Class
All instruction in a defensive driving class is delivered in the classroom or online — no actual driving is needed. 
Most classes will begin by going over a syllabus of topics that the course will cover. You'll learn what to do in situations you might encounter on the road, most of which require fast thinking and action. Common topics include: 
Road crashes:

causes and what to do if you're involved in a crash

 

Driving attitude:

how to handle personal psychological factors like stress, fatigue, and road rage

 

DUI:

You'll learn about your

state's laws on blood-alcohol level (BAC)

limits as well as driving under the influence of other drugs such as prescription medication and cannabis (if legal in your state)

 

Inclement weather:

Common inclement weather conditions in your area, how to drive safely in these conditions, and when to stop driving altogether

 

Safety equipment:

besides the obvious importance of seatbelts, you'll learn about other vital safety equipment and devices such as child seats, headrests, and first-aid kits

 

Preventing crashes:

guidelines for reducing the risk of a traffic accident such as following distance, reaction time,

rights of way

, sharing the road, situational awareness, and navigating sudden road obstacles

 
Everyone Can Benefit From a Defensive Driving Course
Whether you're looking to dismiss a traffic ticket or take advantage of car insurance discounts, taking a defensive driving class is a major safety and financial investment.  
At SR-22 Adviser, we work with drivers around the country to find the insurance they need at an affordable price. All it takes is a few minutes for an online quote for cheap SR-22 insurance from our partner.