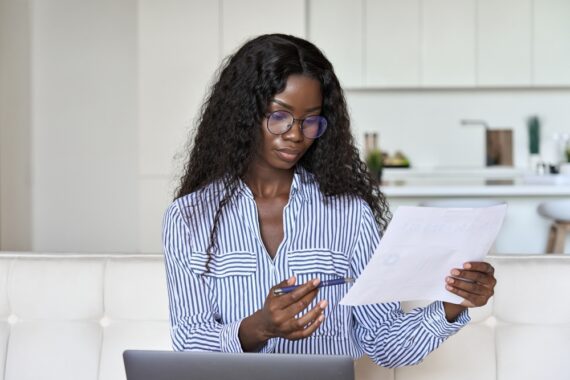 A Timeline on Completing SR-22 Paperwork 
When you have to file an SR-22 with your state, it can be a life-changing event. First, you may be dealing with legal drama before the court forces you to file. Afterward, it can be very difficult to find an insurance carrier, and you'll end up paying way more for automobile insurance than you paid before. 
Eventually, you'll be asking yourself, "when will this all be over?" In order to give you a better idea of how long everything will take, we put together this complete timeline for completing your SR-22 paperwork. 
Getting the SR-22
Your SR-22 timeline technically begins before you get the SR-22 in the first place. That's because, for most drivers, the SR-22 begins with their time in court. 
Traffic court moves quicker than you might expect. You will be given a day to appear in court. Rather than a jury trial, a judge will decide your case. One way or another, the judge usually makes a decision that same day. 
Unlike what you have seen on television, this particular trial likely won't have any opening statements. Instead, a police officer will either answer a prosecutor's questions or, in the absence of a prosecutor, answer the judge's questions about what you allegedly did. This will include presenting any evidence they may have. 
Afterward, you get a chance to present evidence. You may also testify on your own behalf. Unfortunately, most people who must get SR-22s have to do so after getting convicted of moving violations like a DUI. If the state also has evidence about your blood/alcohol level at the time, there may be little you can do to persuade the judge you are innocent. 
The judge will decide any penalties, including whether you must get an SR-22. If they decide you must get one, your trial in traffic court becomes "day one" of your SR-22 timeline. 
Finding a High-Risk Insurance Provider
You cannot file your own SR-22 certificate – an insurance company must file it on your behalf. You'll have to find an insurance provider willing to cover you. In some cases, though, this may be harder than it looks!  
That is because insurance carriers set premium prices based on the risk factor of the driver. It's why teenage boys pay a higher premium — statistically speaking, they are likelier to drive more dangerously. 
If you get convicted of something like a DUI, there is, quite frankly, a legal record of your dangerous driving behavior. Some insurance carriers will refuse to insure you at all, and the remainder will charge you more than you previously paid. While it may happen more quickly, some drivers spend a month or more just trying to find a good insurance carrier that handles DUI insurance. 
Waiting For Your Paperwork
Once you find the right insurance company, you will need to contact them about your SR-22. You can then have the new carrier send the required paperwork to the state. 
Eventually, the paperwork will get to your state's Secretary of State. Their office must then complete the paperwork and send your actual SR-22 certificate to you. 
Unfortunately, this process often takes some time. You may have to wait up to 30 days before you receive the certificate. 
Keep in mind that until you receive that certificate, you cannot legally drive. So you may have to make arrangements with friends, family, or colleagues to help you get to places like work or school before your paperwork comes in. 
Keeping the SR-22 in Your Possession
Now begins the longest part of your SR-22 timeline. You will need to keep the SR-22 certificate with you at all times when you drive, preferably secured in the glove compartment, and for the entirety of the time required by the state.  
The average time that drivers must have an SR-22 on file is three years. However, it's important to check your paperwork and, if necessary, confirm how long you need to maintain your SR-22. 
Once that time is over, you can have the SR-22 removed. This should also reduce the cost of your insurance, though it may not immediately return to its pre-SR-22 pricing. 
Find Cheap SR-22 Auto Insurance Quotes
Contacting Your Insurance Carrier
One thing you must know is that nobody working for the state will notify you when you have met the SR-22 requirements. Neither will your insurance company. Instead, you must personally keep up with how long you have had it on file and then contact your insurance company when that time is up. 
Once you contact your insurance company, they can contact your state and have the SR-22 requirement removed from your file. At this point, you have reached the end of your SR-22 timeline. 
Keep in mind that you must maintain at least the minimum level of insurance coverage the entire time the SR-22 is required. If your coverage lapses, you may have your license suspended, and you may ultimately increase the SR-22 timeline. 
Getting SR-22 Insurance Comparisons
Generally speaking, the SR-22 experience isn't very pleasant. But one of the ways you can make it better is by taking your time to find the right insurance carrier. 
Remember, nothing keeps you from getting quotes for DUI insurance from multiple insurance carriers. Instead of settling for the first rate you see, get a variety of quotes until you can find a very competitive rate. 
This is important because you must have the SR-22 on file for multiple years. Finding a carrier that offers solid savings each month could help you save hundreds or even thousands of dollars over the years. 
Get the Best SR-22 Insurance Today
Now you know why it's so important to find the right insurance carrier. But what if you could find the best SR-22 insurance at the push of a button? 
At SR-22 Adviser, we're here to help you save money on your monthly premium, both before and after the SR-22. To get started, give us a call at 877-822-2049 or get competitive quotes online from our partner today!