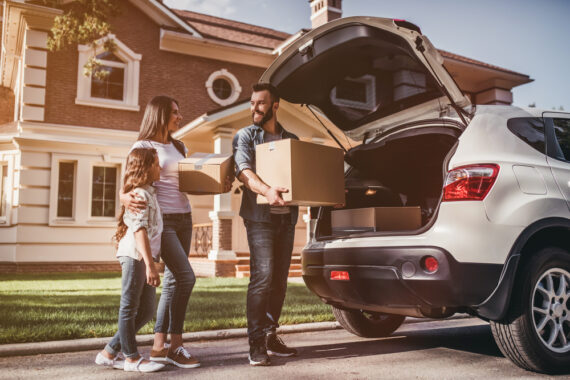 Guide to Moving Out of State With an SR-22 
What if forgetting to update your paperwork cost you hundreds or even thousands of dollars?
If you are required to file an SR-22 with your state, you understand the importance of having the right SR-22 insurance. However, you may have to move out of state for educational opportunities, job opportunities, and anything in-between.
That brings us to the big questions: What happens to your old policy on file after you move? What do you need to do once you move to your new state? Keep reading to discover the answers!
Do I Have to Keep My SR-22 Insurance When Moving Out of State?
When you move to a new state, you must keep your SR-22 insurance. Otherwise, you run the risk of losing your license and having to start the process all over again.
When the state requires you to file an SR-22, it is because they worry about your safety as a driver. Most people in this situation have been convicted of a DUI or DWI. Therefore, insurance requirements ensure you have enough coverage in the event that you should cause an accident.
This is also why the SR-22s have "time limits." The idea is that, after enough years have gone by, you are now a safer driver than you were before. Crucially, though, those time limits don't "reset" after you move to another state. Instead, you will need to continue having insurance that meets the requirements, though you may need to find a new insurance provider, and you may want to make a few lifestyle changes so you can get a better rate.
What Happens If I Don't Keep My SR-22 Insurance After Moving?
If your SR-22 insurance coverage lapses in your original state, that state will suspend your license. Most states belong to the interstate Driver License Compact, which means they share information, especially about violations and suspensions and to keep people from having two – or more – driver's licenses.
Depending on your original state, there may be additional penalties for failing to maintain your insurance. This could include having to pay fines or having your requirements extended. In some cases, you could even spend time in jail!
On top of everything else, you won't be able to get insurance in your new state until you have taken care of all the SR-22 paperwork. That paperwork can be confusing at times, but our guide below will walk you through how to stay compliant before, during, and after your move.
Find Cheap SR-22 Auto Insurance Quotes
How to Maintain SR-22 Compliance After Moving
As we have noted, there can be severe consequences for not keeping your SR-22 insurance when you move to another state. It's important to avoid those negative consequences, but it can be very confusing for the average driver to figure out which steps they need to take next, especially if the new state has different SR-22 requirements.
That's where we come in. Below, we have a step-by-step breakdown of how to maintain compliance while you move. Use this guide to make sure you get each and every step right!
Maintain the Current SR-22 at First
The first step is that you need to maintain the SR-22 of your former state. You are eventually going to need to get one in your new state, but "step one" is keeping the current policy maintained.
When in doubt, don't be afraid to contact your current insurance carrier. Chances are that your carrier handled most of the paperwork for you before. This means they are in a unique place to answer your current questions and help you deal with the DMV as needed.
Once you make sure the current SR-22 is taken care of, you can proceed with packing and moving to a new state as planned. Once you get there, though, you may need to find a new insurance company, and this gives you many opportunities to save money on your SR-22.
Contact an Insurance Carrier after You Move
As we said, you need to continue having SR-22 insurance after you move. So once you move, you'll need to find a new insurance carrier (and hopefully at a better price) if you can't remain with your current one.
The most important thing about your new carrier is that it should be able to handle cross-state SR-22 filing. In other words, it can help take care of the paperwork in both your old state and your new one.
One bit of advice: This is the perfect time for you to shop around and get quotes from different insurance carriers. This insurance is always going to be more expensive than what you paid before. However, taking the time to shop around for the best rates can save you thousands of dollars in the long run.
Overlapping Old and New Paperwork
After you move to your new state and take care of the new paperwork, you'll probably be in a hurry to cancel in your old state. However, it's important that you don't move too fast when doing so.
For maximum safety, you need to let the old and the new overlap for about five days. After that, you can cancel the certificate in your former state.
While the overlap can be a bit annoying, keep in mind that it helps you meet the requirements and avoid penalties. The last thing you'd want is to get stuck with an extra few years because you couldn't wait a few days before canceling your original filing with your previous state!
Get the Best and Cheapest SR-22 Insurance Today!
Now you know all the steps you need to take to maintain the SR-22 when you move to another state. The most important step is finding a new insurance provider. Do you know where to find the best and most affordable car insurance coverage?
Here at SR-22 Adviser, we're all about helping you save money each month on your car insurance premium. To get started, come get competitive quotes online from our partner today!