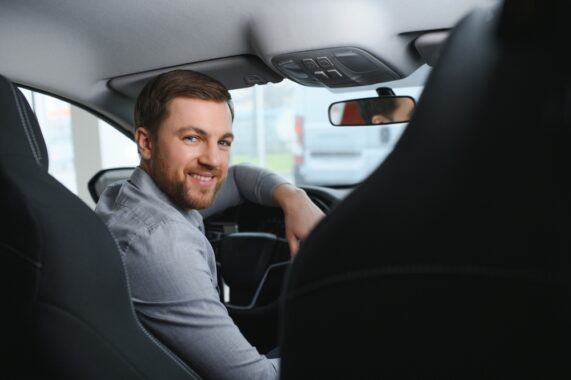 The 10 Easiest Car Insurance Discounts to Qualify For 
Has your state DMV placed an SR-22 requirement on your insurance policy? Are you looking to save money on your auto insurance premiums? This guide will help you identify which car insurance discounts you may qualify for so you can lessen the burden.
1. Safe Driver Incentives
Every insurer has a "safe driver" definition. Most companies will view a safe or good driver as one who does not have any accidents or violations in the past 3-5 years. 
Other insurers may split the categories of "good driver" and "accident-free driver" along different qualification criteria. 
Another important qualifier, avoiding DUIs, matters for receiving this premium reduction. 
The reason we listed this incentive at spot 1 comes from the fact that the only action you have to take to receive it depends simply on driving safely. 
Either way, this discount can help to reduce your premiums for the cost of driving safely. Not a bad trade-off!
2. Multi-Vehicle Bundling
Most insurers offer discounts to clients who insure more than one vehicle with them. Opting to insure all of your vehicles with the same insurance company can also save you time and headaches by reducing the number of policies you must individually manage and pay. 
Your agent can help you to decide whether it makes sense to insure each of your vehicles with the same company or to spread each vehicle across different policies and companies.
3. Good Student Incentives
While young drivers tend to pay higher auto policy premiums, they may also have the ability to take advantage of good student premium cuts. 
Each firm qualifies students for this discount differently. The typical average grade required for students to receive this discount hovers around a B or B- and many carriers require students to be fulltime. 
Many parents encourage their children to work hard to receive this discount given its ease of attainability.
4. Military Status (Active-Duty and Veterans)
Nearly every major auto insurer offers a military discount to individuals who meet one of the following criteria: 
Those who currently serve in one of the uniformed branches of the US military.

 

Individuals undergoing active deployment or unforeseen emergency deployment.

 

Veterans and previous servicemembers of the armed forces.

 
Not every insurer will offer veterans a discount, but most companies will tend to extend a small discount to those who serve. 
Be sure to shop around for the best policy!
5. Senior Citizen Discounts
Many auto insurers offer senior citizen discounts. You may need to take a defensive driver course – especially one geared towards older drivers. 
Find Cheap SR-22 Auto Insurance Quotes
6. Multipolicy Bundling
In addition to receiving discounts for multi-vehicle policies, you may also have the ability to bundle multiple types of insurance with the same insurer. 
Some companies will offer significant discounts for bundling your auto, renter, and home insurance under one roof. 
Whether you rent or own your home, passing your plan over to your auto insurer can offer an easy way to earn a discount on your premiums.
7. Pay-in-Full Upfront
Many companies will allow you to pay the full period of premium payments upfront for a significant discount. 
Whether this option makes sense for you specifically depends on your financial situation and if you have the cash available to make this large payment. 
Paying in full upfront may also help defray the additional cost of a DUI on your insurance costs. Another discount may be available if you choose to have your payment automatically deducted from your bank account or credit card each month.
8. Drive Less and Go "Car-Light"
Nearly every insurer offers discounts to drivers who willingly choose not to drive as much per year. The national average of 14,200 miles driven each year acts as a benchmark for drivers to target below. 
If you drive less than the average, you may want to reach out to your insurer to see if you can qualify for a lower-cost plan. This works especially well for those who now work from home.
9. Employer, Organization, and Professional Status
Some companies will negotiate a high-volume auto coverage benefit on behalf of their employees. Reach out to your company's human resources department to see if you can access a group auto insurance discount. If you belong to a professional group, a union or even a sorority or fraternity, you may be able to access a discount.
10. Vehicle-Based Incentives
The type of vehicle you drive, its age, and its features all play a role in determining whether you can qualify for vehicle-derived discounts. 
Also note that even if you do not own a car, you must still file an SR-22 with your local state government. 
Each insurer will have a procedure for classifying vehicle-based discounts, but the most common ones include: 
New Vehicle: If you drive a new vehicle, your insurer will likely provide a discount. Usually, "new" means that the vehicle has an age of one year or less.

 

Anti-Theft Technologies: Theft creates a major headache for both you, the driver, and the insurance company. A vehicle with anti-theft features may reduce your plan's premium.

 

Safety Equipment: If your vehicle comes equipped with safety features such as anti-lock brakes and airbags, then you will likely receive a slight discount.

 

Other Standard Equipment: Some common features of modern vehicles such as daytime running lights (DRLs) can also reduce premium rates.

 
The NHTSA maintains a list of vehicle safety standards that most insurers use to design these policies. As with other discounts, the exact amount and qualifications for this type of discount will depend on the individual insurers' policies. 
You Can Save Money Even if You Have an SR-22
With all these tips, are you still wondering how to save money on your SR-22 insurance reporting requirement? 
Start by talking to the experts at SR-22 Adviser! Get a quote today from our partner to learn more about SR-22 auto insurance policies.