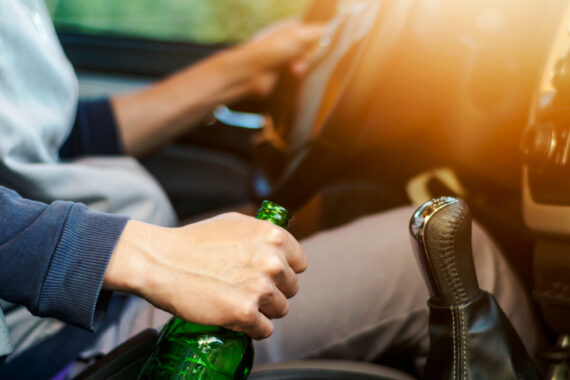 Easy Safety Tips to Avoid Getting an SR-22 
Easy Safety Tips to Avoid Getting an SR-22
As a driver, one of the worst things that can happen is that you have to file an SR-22 certificate with the state.
That's because you'll have to file your SR22 for three to five years. During that time, you may have trouble finding car insurance, and the insurance options you do find will be much more expensive than what you are used to paying.
There are ways of finding more affordable insurance after you get an SR-22. However, you're better off not getting the SR-22 in the first place! With that in mind, here are our best safety tips to avoid getting an SR-22.
Make Ride Arrangements Ahead of Time to Avoid a DUI
While there are different reasons you may get an SR-22, the most common reasons are that you are convicted of a DUI or DWI. To minimize the chances of this happening, it's important to make ride arrangements before you go to a party or other social event.
Many DUIs occur because someone is leaving a party or event after they have been drinking. In a drunken state, it is easy to think "I'm fine to drive" when you're not. Drunk driving puts your life and the lives of others at risk, and even if nobody is hurt, you are likely to get busted for a DUI.
Instead of driving yourself to a party or event, ask to go with a friend or take a rideshare. Do the same thing to get yourself home. This means that even if you have been drinking, you won't be driving drunk and won't get a DUI.
Seek Help If You Have Drug or Alcohol Dependency
The easiest way to avoid getting a DUI or DWI is, of course, to simply not drive after drinking or doing drugs. This is also the easiest way to avoid getting an SR-22. What if this "easy" way is very hard for you?
It's not easy for someone to admit they have a dependency issue with drugs and/or alcohol. In fact, many who have such an issue don't realize they have a problem until they get convicted.
Instead of waiting for that to happen (and waiting for the impact of a DUI on your rates), ask yourself: Does it seem impossible to make it through any given day without drugs or alcohol? In that case, it may be best to seek professional counseling. This can help you achieve better health and happiness while greatly reducing your odds of getting an SR-22.
Take a Driving Safety Course
A DUI or DWI conviction is not the only reason somebody can get an SR-22. In some cases, a driver gets an SR-22 because they have many traffic violations in a short period of time.
Worried about this happening to you? One of the best things you can do is take a driving safety course. Such courses are usually short and affordable, and they do a great job of reviewing the basics so that you are less likely to get a moving violation.
As an added bonus, completing such a course may qualify you for a special discount from your insurance company. So instead of paying extra for your SR-22 insurance, you can actually save money each month on your premium.
Find Cheap SR-22 Auto Insurance Quotes
Avoid Distracted

Driving

and Avoid an SR-22

 

Whether drunk, high, or completely sober, nothing makes you likelier to get a moving violation than distracted driving. Therefore, one of the best ways to avoid getting an SR-22 is to reduce all possible distractions in the vehicle. 

First, make sure your hands are always on the wheel. Avoid the temptation to eat, play on your phone, or otherwise try to multitask, even at red lights. In fact, you should only use your cellphone in case of an emergency, and you should have a hands-free option available. 

Second, pull over if you feel drowsy. You may feel silly napping behind the wheel, but it's better than getting in a car crash. 

Third, and finally, limit how many people you have in the vehicle. If you get distracted by others talking, then other people in the car may be a source of endless distractions! 
Find Low-Cost

SR-22

Insurance Today

 

Now you know how to avoid getting an SR-22. But do you know how to get the best insurance prices, even if you have an SR-22 on file? 

Here at SR-22 Adviser, we have the insurance packages and prices you've been looking for. To get started, check out our partner's competitive quotes online today!