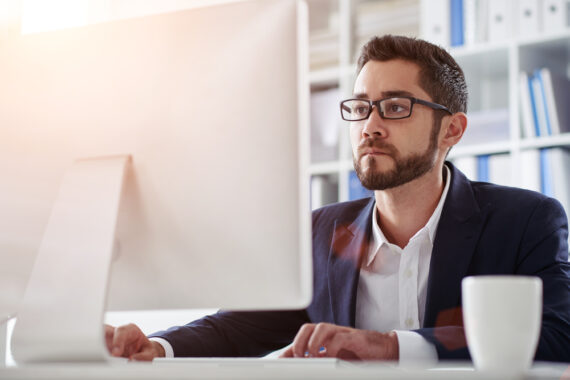 How to Find Out When Your SR-22 Insurance Expires 
Having a suspended license and being required to carry SR-22 insurance is never a good experience, and it's only natural that you would immediately want to think about life after your SR-22 expires. 
But what's actually the best way to find out when your SR-22 insurance expires, and how can you avoid accidentally extending the required filing period? SR-22 insurance can seem complicated, but once you understand the basics, you should be set. 
What is SR-22

Insurance?

 

It's not actually insurance, but a form called a certificate of financial responsibility. High-risk drivers and their insurance companies file this form with the state department of motor vehicles (DMV). 

An SR-22 certifies that a driver has an active auto liability insurance policy that meets state-required minimum coverage. 

Insurance companies must file the SR-22 on behalf of drivers. When an auto liability insurance policy includes an SR-22 form, it's known as SR-22 insurance. 
How Do I

Know

if I Need an SR-22?

 

Different states set their own rules about what counts as a high-risk driver and who needs to file an SR-22 and get SR-22 insurance. Typically, high-risk drivers include those who: 
Have been charged with a

DUI/DWI

 

Have been caught driving without insurance or a valid license

 

Have been involved in too many at-fault accidents within a certain time period

 

Have been charged with too many moving violations within a certain time period (e.g., speeding or reckless driving)

 

Owe court-ordered child support payments

 
If you need to file an SR-22, you'll be notified by the traffic court judge or through a letter from your state DMV. 
How Long Do I Need

to

Have SR-22 Insurance?

 

Most states will require you to file the SR-22 for three years, though the number can range anywhere from one to five years. Note that you need to have uninterrupted SR-22 insurance coverage for the full filing period to meet the SR-22 requirements. If your insurance lapses, you won't get "credit" for your previous SR-22. 
How Can I Find Out

When

My SR-22 Expires?

 

The easiest way to check when your SR-22 expires is to contact your state DMV and ask whether your SR-22 has been filed for the required length of time. If so, then the next step is to get in touch with your insurance company and request to remove your SR-22. 

If you haven't yet met your SR-22 filing requirements, then the DMV will also let you know how much longer you'll need it. 

There are serious penalties for canceling your SR-22 insurance before the required time period, so always make sure that you have active SR-22 insurance to avoid extending the filing requirement. 
Find Cheap SR-22 Auto Insurance Quotes
Why Would

My

SR-22 Insurance Be Extended?

 

If your state DMV tells you that you need SR-22 insurance for longer than you expected, chances are that you unintentionally reset the time requirements for filing your SR-22. There are a few ways this could have happened. 
Your SR-22 Insurance Lapsed

 
Whenever your SR-22 insurance lapses or is canceled, your insurance company is required to immediately notify your state DMV. If you haven't met the filing time period requirement when this happens, then the DMV will reset the clock on the time period. 
For example, if you're required to file an SR-22 for three years but let your insurance lapse on the last day, then you'll be required to have SR-22 insurance for another three years — bringing the total time period to almost six years. 
That's why it's so important to keep close track of your insurance policy and make sure that there are no gaps in coverage. If you move out of state or are shopping around for a better deal on SR-22 insurance, always make sure to have your new insurance policy in place for a few days before canceling your policy with the old company. 
You Have the Wrong SR-22 Insurance

 
There are three main types of SR-22 insurance that cover drivers in different situations: 
An

SR-22 owner's certificate

only covers you while you're driving your own car

 

An

SR-22 operator's certificate

only covers you while you're driving someone else's car, including a company-owned car at work. This is also known as

non-owner's SR-22

.

 

An

SR-22 owner-operator certificate

covers you while you're driving any car. This is the most flexible type of SR-22 insurance.

 
If you're in a situation that's not covered by your SR-22 certificate — for example, if you're driving a friend's car when you only have an SR-22 owner's certificate — then it's as if you're driving without insurance at all. Not only will you face high fines and an even longer license suspension, but your SR-22 filing requirements will reset. 
You're Charged With Another Traffic Violation During Your SR-22 Period

 
One purpose of SR-22 insurance is to help high-risk drivers establish better habits about driving responsibly. If you commit a major traffic violation during your SR-22 filing period, it's very likely that the filing period will be extended. 
Many drivers with SR-22 insurance find it helpful to take a defensive driving course approved by their state DMV. Not only does it help reinforce good driving habits and reduce the chance of getting pulled over on the road, but it's a great way to save money on SR-22 insurance — most auto insurance companies offer discounts to drivers who take approved defensive driving courses. 
You Repeat a Non-Driving Offense

 
In many states, the DMV can suspend your license and require you to file an SR-22 for reasons that have nothing to do with driving. The most common reasons are failing to pay child support and owing money to the state (like taxes and court fees). To get your license back, you'll need to pay what you owe or agree to a payment plan. 
If you fall behind on your child support or state tax payments during your SR-22 filing period, then the DMV can suspend your license again, and the SR-22 filing period will restart. 
The Sooner You

Get

SR-22 Insurance, the Sooner Your SR-22 Will Expire

 

The quickest way to get past your SR-22 filing requirements is to get SR-22 liability insurance that provides the state-required minimum coverage. At SR-22 Adviser, we help high-risk drivers all over the country get the liability insurance they need today and bring them one day closer to removing their SR-22. Get started today with a quick online quote from our partner for affordable SR-22 insurance.