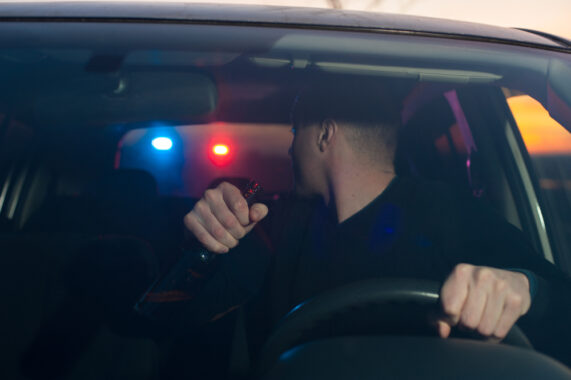 What Happens When You Don't Get SR-22 Insurance? 
You will be breaking the law. Again. Since you are required to file an SR-22 form with your DMV because you've already broken the law (typically by driving drunk), you'll be on your way to a serious second offense by not doing what you've been told to do by a court.  
There's no way around it: if you're required to get SR-22 insurance, then you'll need to budget more money toward your car insurance premiums.  
As you'll find out in this article, the penalties for not getting SR-22 insurance far outweigh the money you might save. In fact, you're more likely to pay more in the long run. 
What is an

SR-22?

 

An SR-22, also known as an SR-22 certificate of financial responsibility, is a document filed with your state DMV that proves that you have the state-required minimum car insurance. 

You can only file an SR-22 through your car insurance company, and an insurance policy that includes an SR-22 filing is commonly known as SR-22 insurance. In other words, you can't file an SR-22 without having car insurance. 
How Do I Know

If

I Need SR-22 Insurance?

 

Most people don't need SR-22 insurance. If you're required to file an SR-22, then you'll receive a letter from the DMV. Each state has its own regulations about who needs to file an SR-22, though the most common reasons include: 
Driving without car insurance or a valid (non-expired) license

 

Being at fault for too many accidents

 

Getting charged with too many traffic violations within a short period of time

 

You owe state taxes or court-ordered child support

 
From that point on, you'll need to have SR-22 insurance for the required time period—typically three years, though the range can vary between one and five years. 
What

Happens

When You Don't Get SR-22 Insurance?

 

If you're required to file an SR-22, you might be wondering what the consequences are for ignoring the requirement. The answer depends on whether you're getting SR-22 for the first time, or if you've let your SR-22 insurance expire. 

Keep in mind that SR-22 insurance is tracked more closely than regular car insurance. If you drive without regular insurance, then the DMV won't know about it until you're pulled over or get into an accident. But because your car insurance company files your SR-22, your state DMV will always know whether you're complying with the law. 
You Can't Get

Your

License Back Without SR-22 Insurance

 

When you receive a letter from the DMV about having to file an SR-22, chances are that your license is suspended as well. Depending on the state and the violation, license suspensions can last anywhere from 90 days to an entire year. 

After your license suspension period is up, you can apply for the DMV to reinstate your license. But there's a big catch — even after the suspension period is over, you won't be able to get your license back until you file an SR-22 to show that you have enough insurance coverage. In other words, if you don't get SR-22 insurance, you don't get to drive. 

Once you've filed an SR-22 and paid your fines and administrative fees, you'll get your license. Be sure to keep track of the date that the DMV received your SR-22. This is considered to be "Day 1" of your required filing period. 
Find Cheap SR-22 Auto Insurance Quotes
What

Happens

if You Let Your SR-22 Insurance Expire?

 

Once you get your suspended license reinstated with SR-22 insurance, your obligations don't stop there. If you let your SR-22 expire — for example, by missing a payment or forgetting to renew your policy — then your car insurance company is required to notify the DMV and let them know that you no longer have SR-22 insurance. This causes a whole domino effect of negative consequences. 

First, your license will be revoked again. In many cases, you'll have to wait even longer than you did the first time to get it reinstated. You'll also face steep fines that usually increase with each repeat SR-22 violation. 

In addition, the clock will reset during your SR-22 filing period. So, if you're required to file an SR-22 for three years and let your insurance lapse with one day to go, then you'll need to wait another three years before you can remove your SR-22. 

Finally, remember that driving without SR-22 insurance is like driving without car insurance at all. That means that if you let your SR-22 insurance expire and you're at fault for an accident, then you'll be held personally responsible for covering the medical costs and repair costs for the other driver, on top of the penalties and fines above. Even if you do reinstate your SR-22 insurance policy, the insurance company won't cover you for accidents that occurred during the coverage gap. 

The bottom line: if you want to save the most money on your SR-22 insurance, make sure to always have an active SR-22 policy. Always pay your premiums on time, and if you need to change insurance companies, leave at least a few days of overlap coverage to avoid the risk of an accidental gap in coverage. 
Do I Need to

Get

SR-22 Insurance if I Don't Own a Car?

 

Yes, if your state DMV requires you to file an SR-22, then you must have SR-22 insurance for the entire filing period to fulfill your obligation — no exceptions. There are actually different types of SR-22 insurance to cover situations, such as non-car owners and people who drive multiple cars. 
How Do I Get

SR-22

Insurance?

 

If you were recently required to file an SR-22, the first step is to always contact your current insurance company and let them know about your SR-22 requirement. Many insurance companies can file the SR-22 for you, though you should expect to pay a higher premium. However, some companies aren't willing to cover high-risk drivers that need SR-22 insurance. If that's the case for you, then the best next step is to shop around for competitive SR-22 insurance quotes. 

Even if your insurance company is willing to file your SR-22, it never hurts to compare quotes from different companies. Since SR-22 insurance premiums are always higher than standard car insurance, you may find that switching carriers can save you a lot of money. 
Get Back On the

Road

with Affordable SR-22 Insurance

 

When you need to file an SR-22, the best course of action is to take it seriously. The sooner you get SR-22 insurance, the sooner you can fulfill your requirement and go back to paying less for car insurance. SR-22 Adviser works with drivers all over the country to get the best rates on SR-22 insurance. All it takes is a few minutes for a quote for SR-22 insurance from our partner.